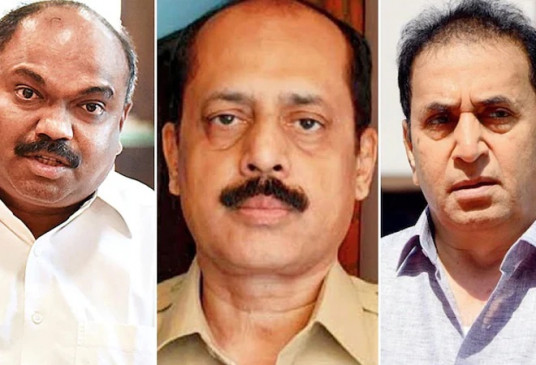 Digital Desk, Mumbai. After the letter of former Mumbai Police Commissioner Parambir Singh, the letter of the now suspended police officer Sachin Vazh has increased the political stir in Maharashtra. Sachin Waje claimed on Wednesday that former state minister of state Anil Deshmukh had asked him two crore rupees to continue his service in the Mumbai Police. At the same time, another minister has accused Anil Parab that he had targeted to recover from the contractors.
In fact, in the Antilia case, the National Investigation Agency (NIA) on Wednesday presented former API Sachin Vazh in a special court. On the demand of the investigating agency, the court has extended the custody of Vazh till April 9. During the production, Sachin Waze presented a written statement before the court. He made this statement during the custody of the NIA.
Transport Minister Parab dismissed the allegations of Waje and said that these allegations are false and its aim is to tarnish my image. He said that he is ready to face any investigation. Waje was reinstated last year in the police service. He made this sensational claim in a letter, which he tried to present before the special NIA court here.
Special Judge PR Sitre refused to take his letter on record and asked him to follow the necessary procedure. Waje is an accused in the case of industrialist Mukesh Ambani's residence in south Mumbai, after a suspicious vehicle was found and the death of businessman Mansukh Hiren. Explosive material was recovered from this vehicle. Waje is currently in NIA custody.
I made these revelations
In the written statement, he has also said that the complete information about the recovery case was given to Anil Deshmukh's PA. Sachin Vaze said in his statement that NCP Chief Sharad Pawar had opposed his reinstatement. They wanted the reinstatement of the tree to be canceled.
Sachin Vazh said in a statement to the NIA that I had re-joined duty on 6 June 2020. Sharad Pawar was not happy with my joining of duty. They asked me to suspend again. This was told by Anil Deshmukh himself. He had also asked me for 2 crore rupees to convince Pawar saheb. It was not possible for me to pay such a huge amount. After this, the Home Minister asked me to repay it later. After this, I was posted in the Crime Intelligence Unit (CIU) of Mumbai.
Anil Parab asked a trust to recover money in the name of investigation- Accusing Minister Anil Parab, Sachin Vazh said, 'After this, in October 2020, Anil Deshmukh called me to Sahyadri Guest House. Before that, in July-August 2020, Maharashtra Minister Anil Parab called me at his official bungalow. In the same week, internal orders were also given regarding posting of DCP posts.
He further told me that during the meeting, Anil Parab told me to pay attention to the SBUT (Saifee Burhani Upliftment Trust) Complaint which was on a preliminary stage. At the same time, I was asked to bargain with the trustees of SBUT to close the inquiry and demand an amount of 50 crores for it. They also asked me to do the initial talk for the amount, but I refused to do so as I do not know any of the SBUT and I had nothing to do with this inquiry.
Parab asked 50 companies to recover Rs 2-2 crore- Referring to another meeting with Anil Parab, Vazhe said, 'In January 2020, Minister Anil Parab again called me to his government bungalow and asked him to command an inquiry against the Praudulant contractor listed in BMC.
Minister Anil Parab asked each of the 50 listed companies to collect Rs 2 crore. Because investigation was going on against these companies on a complaint, which was in the early stages. '
Anil Deshmukh asked to collect from over 1600 pubs and bars- In January 2021, Home Minister Anil Deshmukh invited me to his official bungalow. Then his PA Kundan was also present there. At the same time, I was asked to present 1650 pubs, bars in Mumbai and a collection of 3 lakh rupees every month. On this, I told Home Minister Anil Deshmukh that the city has only 200 bars, not 1650 times.
Further Sachin Vazh told that I had also refused to collect money from the bar to the Home Minister, because I had told him that it was beyond my capacity. Then PA Kundan of the Home Minister told me that if I want to save my job and post, then I should do what the Home Minister is saying.
The full story of the entire game of recovery told to Parambir Singh- At the end of the letter, he told me, 'After this, I had told this thing to the then Commissioner Parambir Singh, and also said that in the coming future I will be implicated in some controversy. After this, the then commissioner Parambir Singh refused to let me get involved in any illegal recovery. ' At the end of the letter, he wrote – Judge Sir, I am bringing these things to you because I want me to get justice.