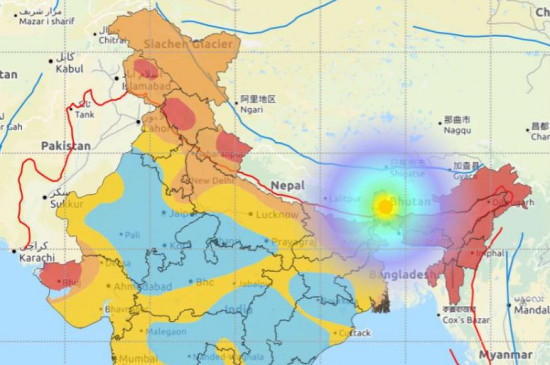 Digital Desk, New Delhi. Earthquake tremors were felt on Sikkim-Nepal border at 8.49 am on Monday night. According to the news agency, the earthquake on the Richter scale was 5.4. Earthquake tremors have also been felt in West Bengal, Bihar and Assam. At present, no damage has been reported from anywhere, but people came out of their homes in panic.
Earthquake of Magnitude:5.4, Occurred on 05-04-2021, 20:49:58 IST, Lat: 27.23 & Long: 88.84, Depth: 10 Km ,Location: 25km ESE of Gangtok, Sikkim for more information download the BhooKamp App https://t.co/pMsb0vIU5epic.twitter.com/La4mmjIpgf

— National Center for Seismology (@NCS_Earthquake) April 5, 2021
According to reports, the epicenter of the earthquake was 25 km east of Sikkim's capital Gangtok and 10 km deep in the ground towards the northeast. Earthquake tremors have been felt in Bihar's capital Patna along with Araria, Purnia and Kishanganj. After this people panicked and came out of the houses. However, there is no report of loss of life or property.
5 earthquake zones in the country
According to geoscientists, the risk of earthquakes is different everywhere in the country. The country is divided into 5 zones according to the danger.
Zone-1: It covers parts of western Madhya Pradesh, eastern Maharashtra, Andhra Pradesh, Karnataka and Orissa. There is the least risk of earthquake here.
Zone-2: Tamil Nadu, Rajasthan and parts of Madhya Pradesh, West Bengal and Haryana. There is a possibility of earthquake here.
Zone-3: Kerala, Bihar, Punjab, Maharashtra, Western Rajasthan, East Gujarat, Uttar Pradesh and some part of Madhya Pradesh comes. Earthquake tremors continue in this zone.
Zone-4: Metros like Mumbai, Delhi, Jammu and Kashmir, Himachal Pradesh, Western Gujarat, Uttaranchal, the hilly areas of Uttar Pradesh and Bihar-Nepal border areas are included. Here the risk of earthquake remains constant and earthquakes keep coming in intermittently.
Zone-5: This is the most dangerous area in terms of earthquake. This includes the Kutch region of Gujarat, a part of Uttaranchal and most of the northeastern states.