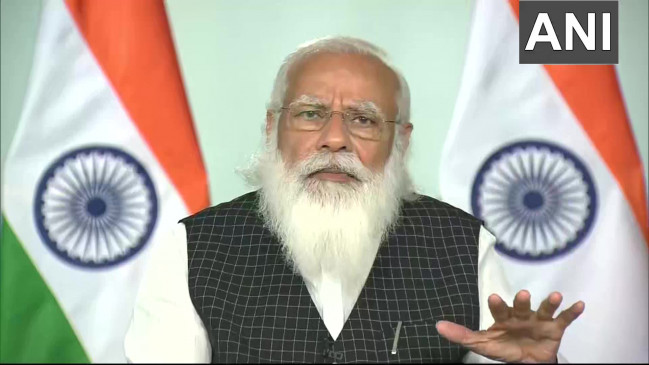 Digital Desk, New Delhi. Prime Minister Narendra Modi on Thursday held a review meeting with the Chief Ministers of the states to discuss the serious situation of the Corona epidemic in the country. The meeting was also attended by Maharashtra Chief Minister Uddhav Thackeray and Bihar Chief Minister Nitish Kumar.
After the meeting ended, Modi said that the Corona curfew is making people aware. We need to pay attention to this. Now pay attention to the micro containment zone. The government has to work more hard in this, but this hard work will pay off. We have seen 10 lakh active cases last time. We had success on that. Now we have both experience and resources. We can stop this peak.
Let's know what PM Modi said …
In the meeting, PM Modi said that this time the growth of Kovid infection in the country is faster than ever. This is a matter of concern for all of us. This time people have become very careless than before.
PM Modi said that some things are clear in front of us in today's review, we need to pay special attention to them. First, the country has crossed the peak of the first wave of infection, and this time the pace of infection is even faster than before.
Secondly, many states including Maharashtra, Chhattisgarh, Punjab, Madhya Pradesh and Gujarat have also crossed the peak of the first wave. Some other states are also moving towards this. This is a matter of grave concern for all of us.
Third- This time people have become much more careless than before. A similar situation is seen in most states with the administration. In such a situation, this sudden increase in corona cases has created problems.
He said that despite all these challenges, we have better experience, resources, and vaccines than ever before. Along with public participation, our hardworking doctors and health-care staff have helped a lot in handling the situation and continue to do so today. Test, track, treat, behave according to COVID guidelines and manage COVID, these are the things we have to emphasize.
The PM said that on 11 April it is Jyotiba Phule Jayanti and on 14 April it is the birth anniversary of Baba Saheb, in the meantime let us all celebrate 'Tika Utsav'. Along with the vaccination, we also have to keep in mind that the negligence after the vaccine is not increased.
He said that our effort should be that in this vaccine festival we should vaccinate more and more people. I would also urge the youth of the country to extend all possible help in getting the vaccine around whoever is above 45 years around you.
At the end of the meeting, PM Modi once again insisted that we have to tell the people that masks and precautions are necessary even after vaccination.