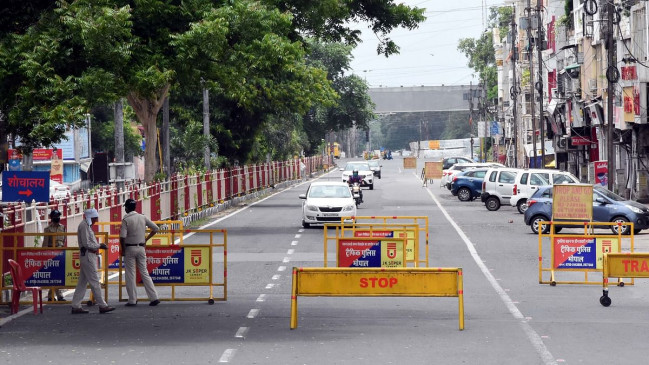 Digital Desk, New Delhi. In view of the increasing cases of corona across the country, the Central Government and the State Government have taken important decisions. The administration has made full preparations to win the war with the Corona infection. Night curfew has been implemented in many states and cities at the high speed of Corona. This has once again created a lockdown-like situation in the states.
There have been 1,26,789 new cases of corona in the last 24 hours in the country. After the capital Delhi, several state cities have imposed the night curfew. Punjab has also issued a lockdown till 30 April. Weekend lockdown has been imposed in all cities of Madhya Pradesh. On Wednesday, night curfew has been implemented in Uttar Pradesh's capital Lucknow, including Prayagraj, Varanasi and Kanpur. In many places the number of corona patients has increased so much that ventilators and oxygen beds have come down in hospitals.
Meanwhile, Prime Minister Narendra Modi has called a meeting of Chief Ministers in view of the current situation in Corona. CMs and higher officials of all states will be included in the meeting. Please tell that the meeting will be discussed through video conferencing.
Status of corona in madhya pradesh
In view of the increasing cases in Madhya Pradesh, CM Shivraj Singh Chauhan has taken an important decision today. Shivraj Singh Chauhan has announced Saturday-Sunday lockdown in all cities of Madhya Pradesh. He said that the lockdown will continue from 6 pm tomorrow to 6 am on Monday, this decision has been taken after getting 4324 patients within 24 hours in the state.
Please tell that weekly lockdown has also been implemented in many cities of Madhya Pradesh. There will be a 9-day lockdown in Ratlam district. This lockdown will continue from 6 pm on 9 April to 6 am on 19 April. A seven-day lockdown has been issued in Khargone, Katni and Betul. This lockdown will continue from 6 April to 17 April. A 7-day lockdown has been issued in Chhindwara today from Thursday 8 April. While announcing the lockdown, Shivraj said that his intention has never been to lockdown, but this step has to be taken after getting 4324 corona new patients within 24 hours in the state. He also appealed to the people to put on masks, if not necessary, do not leave the house and follow the rules.
Corona's new guidelice in Uttar Pradesh
At the same time, in view of increasing infection in Ghaziabad and Noida of Uttar Pradesh, the government has decided to close all schools and colleges. The government has ordered the closure of all educational institutions till April 17. In an order issued by Ghaziabad DM Ajay Shankar Pandey, it has been said that all educational institutions, schools, colleges, coaching centers in the district will remain closed till April 17.
Let us know that the schools and colleges in which the practice is going on will continue, but there will be no permission to hold classes. Tokens have to be taken to go to the mall and multiplex. It is not allowed to gather more people together in the banquet hall. Guests are invited by rotation. According to the data released by the Health Department, 6,023 patients were reported in the last 24 hours.
Lockdown also in Chhattisgarh
In Chhattisgarh too, orders have been issued to impose lockdown in view of increasing cases of corona. Lockdown and night curfew has been decided in many districts of the state including the state capital. The first lockdown was announced in Chhattisgarh. This lockdown will continue from April 9 to April 19, during the lockdown, the boundaries of the district will be sealed along with all the government and government private offices, banks etc. of Raipur will also be closed.
However, industrialists have been given the exemption that if the workers live inside the industry premises, then that industry can be operated. The District Magistrate said that all the shops in the district will remain closed. Petrol at petrol pumps will be given only to government vehicles, ambulances, e-pass vehicles and those going from one state to another without stopping in Chhattisgarh. Only essential services like medical shops and milk and vegetables will be allowed to open.
In view of the Corona blast in Maharashtra, the Uddhav Thackeray government of the state has further tightened the rules. Weekend lockdown and night curfew have been announced in the state. Under this, there will be a lockdown in the state from 8 pm Friday to 8 am Monday.
.