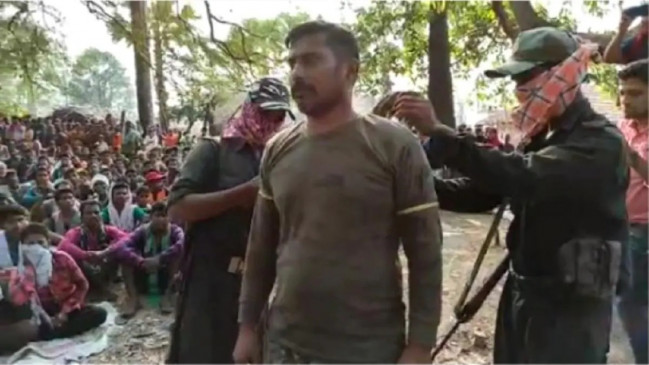 Digital Desk, Raipur. The Maoists have released Rakeshwar Singh, the Cobra commando of the Central Reserve Police Force (CRPF) who was abducted after the attack in Bijapur. After Rakeshwar's release, Khushi returns to her family once again. His wife and mother have thanked the police and the Naxalites. Official sources said that Rakeshwar Singh has returned via the jungle. On his return he was taken to the Bijapur CRPF Camp.
According to the information, Rakeshwar is currently in the camp of 168th Battalion at Tarrem. Their medical checkup is being done there. At present, no information has been revealed as to when and with whom he was released. Let us tell you that on April 3, CRPF jawan Rakeshwar Singh was abducted by Naxalites during an encounter between jawans and Naxalites in Jonaguda. In this attack of Naxalites, 23 soldiers were martyred.
After the release of Rakeshwar Singh Manhas, he is to be taken to Basaguda. The CRPF DG has confirmed Manhas to reach him. Rakeshwar Singh Manhas, a jawan of the Cobra 210th Corps, was abducted by Naxalites after the Teklagudem encounter. Rakeshwar Singh Manhas was medically treated. He is being given the usual treatment of weakness and dehydration at the field hospital of CRPF.
A wave of happiness in the young man's family
There is a wave of happiness in his family after the news of the release of Jawan Rakeshwar Singh in Jammu. His wife Meenu said that they have received official notice of the safe return of the husband. His health is fine. They have a conversation on the phone, then they have just complained of blood pressure. Meenu said that today is the happiest day of my life. I was confident of his return. Thanks to the government for this. At the same time, his mother Kunti Devi said that we are very happy. I also thank those who are leaving our son. I also thank God. When the government was talking, I had some faith, but I could not believe it.
The government had formed a mediation team
Arbitration team was formed to free Cobra jawan Rakeshwar Singh Manhas. It included Padma Shri Dharmapal Saini, Gondwana Samaj president Telam Boraiya. Rakeshwar Singh Manhas was released in the presence of hundreds of villagers.
Journalists should also be released
The two-member team, which went to mediate for the jawan's release, has also freed 7 journalists from Bastar from the Naxalite occupation. A total of 11 members, including a negotiating team, arrived in the rugged Bastar region to release the jawans on the call of the Naxalites.
Baghel's gratitude to the people involved in the release campaign
Chhattisgarh Chief Minister Bhupesh Baghel has expressed happiness over the release of the jawan. He thanked the people associated with the release campaign. The Chief Minister thanked Dharampal Saini, aide in the campaign for the release of Jawan, representatives of other social organizations and local journalists.