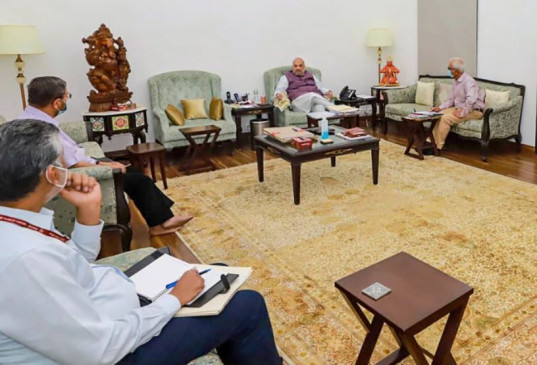 Digital Desk, New Delhi. In view of the Naxalite attack in Chhattisgarh, Union Home Minister Amit Shah has returned to Delhi after cutting his election tour schedule in Assam. After returning to Delhi, the Home Minister held a high level meeting. Several officials, including the Special DG of CRPG, were present during the meeting that lasted for about an hour on Sunday at his residence. In this meeting, a review of the latest conditions and new strategy regarding the incident of Chhattisgarh were considered.
Before the third and final phase of Assam assembly elections on Tuesday, Shah was supposed to address three election rallies in Sarbhog, Babhnipur and Jalukbari, but he could attend the election only in Sarbhog in Barpeta district.
Jitendra Singh, Union Development Minister of Northeast Region and BJP's co-incharge for elections in Assam, tweeted, Home Minister's first Assam rally in Sarbhog on Sunday. He has previously shortened his journey and will not attend two rallies. He has returned to Delhi due to the Naxalite attack in Chhattisgarh. Thousands of people from different sections of the society arrived at the synagogue.
Please tell that 24 soldiers have been martyred in Naxalite attack in Bijapur, Chhattisgarh. About 15 Naxalites are also reported to have been killed. Actually, the security forces were informed about the hiding of Naxalite commander Hidma. On Friday evening, the security forces started operations in Bijapur and Jonaguda area on Sukma border. But then the Naxalites started firing from home on three sides to the security forces.
Naxalites attacked with bullets, pointed weapons and indigenous rocket launchers. 200 to 300 Naxalites were involved in this attack. Prime Minister Narendra Modi has expressed grief over the martyrdom of the soldiers. The PM said, My condolences are with the families of the martyred soldiers in Chhattisgarh. The sacrifices of the brave martyrs will never be forgotten. The injured wished to recover soon.