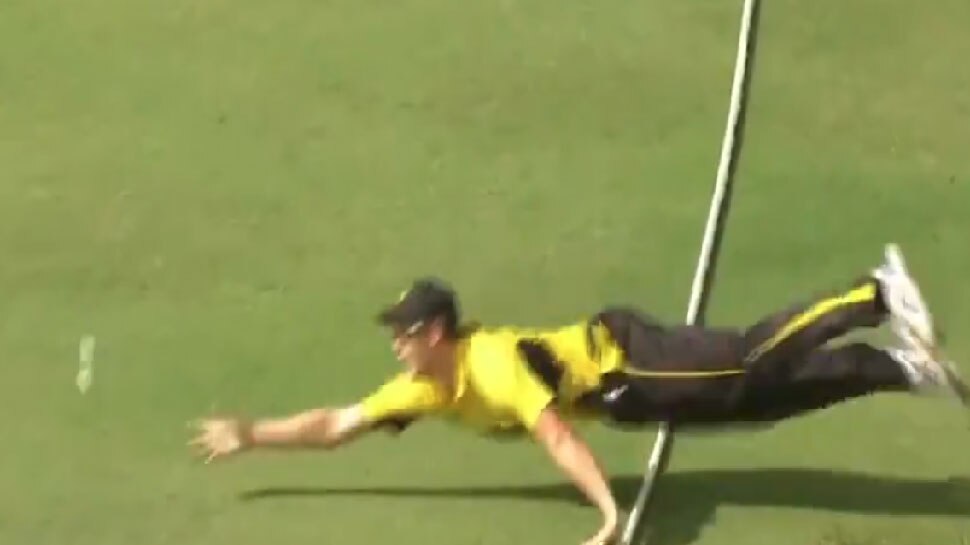 new Delhi: Players are often seen doing big deeds on the cricket field. Many times, fielders also take such catches that no one even knows. Australia's young all-rounder Cameron Green has also done something similar. In the domestic FIFT-50 tournament Marsh Cup being played in Australia, Green kept taking a catch that was never seen by anyone. If it was caught, it would have been the best catch in cricket history.
Awesome try!
Actually, in the Marsh Cup, a match was being played between West Australia and Tasmania. West Australia won this match by a huge margin of 159 runs. But the thing that got the most news in this match was the attempt to catch the catch of Cameron Green. Wester played a shot in the air during the 21 overs of Tasmania's innings. Then, to catch the catch, Green (Cameron Green) started running straight from the mid-wicket. He ran a long race and he reached the boundary. He caught the catch and bounced towards it. In the second attempt to catch that catch, he missed it a bit and the catch was dropped from his hands.
If this catch had caught Green (Cameron Green) then it would have been the best catch in the world without any doubt. You can guess this from the fact that Green Beach ran from the ground to the boundary line on its back side. He almost took this catch. But in the end they failed. Otherwise this catch would have been a catch that had never been caught before.
Cameron Green has almost pulled off the single greatest catch in cricket history!

Almost… #MarshCup pic.twitter.com/fkR9QxOt30

— cricket.com.au (@cricketcomau) April 8, 2021
Green is a fantastic all-rounder
Cameron Green is a young emerging allrounder. This tall player can show amazing off the ball along with hitting long sixes with his bat. Green recently made his debut in the Test series against India. Green had also played a wonderful innings of 84 runs in the same series. During this innings, Green hit the Indian bowlers hard and hit long sixes.