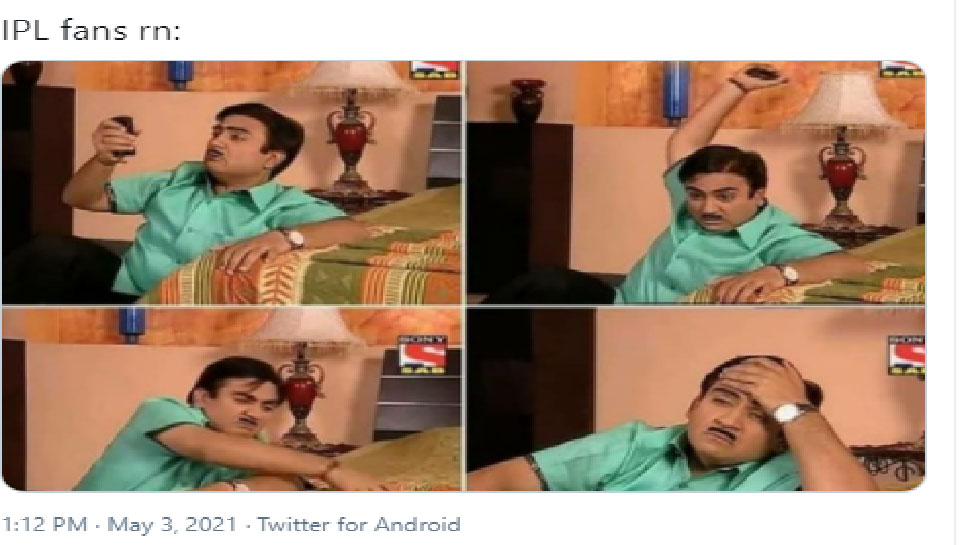 New Delhi: On IPL 2021, now the coronavirus is causing havoc. This epidemic has engulfed members of Kolkata Knight Riders and Chennai Super Kings. After the KKR players got infected, their match against RCB has also been postponed today, after which the fans have now expressed their grief on social media.
Today's match was postponed
The match between KKR and RCB was postponed on Monday after two Kolkata Knight Riders players Varun Chakravarthy and Sandeep Warrier got positive in the Corona Virus Test. Has gone.
Mimes going viral
As soon as KKR players came under the grip of Corona, their match with RCB was postponed. As soon as this news spread among the people, then various types of mimes started becoming viral on social media.
— (@Mr_Exotic_) May 3, 2021
– (@AminSheikh_AV) May 3, 2021
IPL fans rn: pic.twitter.com/zZTVOFxvvD

– Abhishek Tripathi (@Abhithecomic) May 3, 2021
– Prakash Koli (@ Prakash41029730) May 3, 2021
CSK member positive
Chennai Super Kings (CSK) CEO Kashi Viswanathan, bowling coach Laxmipathi Balaji and a bus cleaner Kovid-19 have been found positive in the test. Apart from this, the franchisees who are currently in Delhi are negative. 3 Corona positive members were tested again on Monday morning, but there was no change in the result.