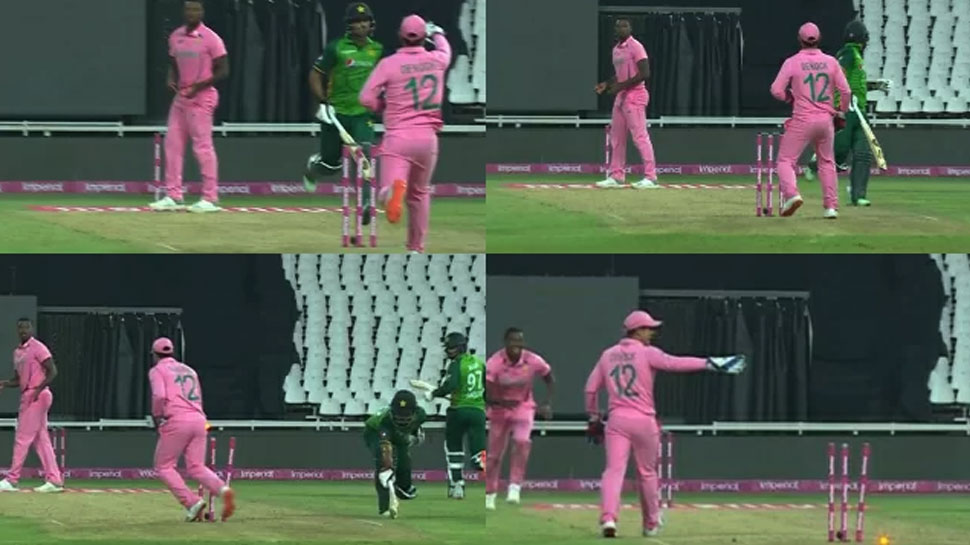 new Delhi: In the second ODI of the series played in South Africa and Pakistan (SA vs PAK) in Johannesburg, the Proteas team has won. Pakistan team lost 17 runs in a thrilling match. The hosts scored 341 runs after losing 6 wickets in 50 overs, in response, the guest team was able to score 324 runs after losing 9 wickets.
Fakhar Zaman's best innings
Even though Pakistan lost in this match, but the opener of this team, Fakhar Zaman, scored a magnificent 193 runs in 155 balls. During this, he hit 18 fours and 10 sixes. He was awarded the 'Man of the Match Award' for his outstanding batting.
"It feels great but it would have been better if we had won."

For his spectacular 193, @FakharZamanLive is named Player of the Match #SEVPAK pic.twitter.com/BScqCPTl5I

– ICC (@ICC) April 4, 2021
Dicock dodges
Fakhar Zaman quickly completed the first run on the first ball of the last over. When he ran for another run, wicketkeeper Quinton de Kock pointed at Non-Strucker Ind, distracting Fakhar. By then, Aiden Markram hit the ball on the wicket.
The Kock Pro Version Of Sanga.

Well Played Fakhar Zaman. pic.twitter.com/CwPOIpalRI

– Ravi Mishra (@ G33kBoyRavi) April 4, 2021
Angry of fans on Twitter
Fakhar Zaman missed out on 7 runs by scoring a double century with this quintessence of Quinton de Kock. Cricket fans did not like this method of Dickock and people have fiercely expressed anger on Twitter. It is being called against the spirit of the game.
Unfair play and disrespect play from @ QuinnyDeKock69 .. poor spirit from Quinton de kock. Disrespect … 5 runs penalty not given when bowl hit Buyuma's hat and then this act is absolutely against the rules. Pak management need to protest on this pic.twitter.com/PK3nAgyxB9

– Hassaan Rasool Dogar (@DogarHassaan) April 4, 2021
Law 41.5.1:

It's unfair for any fielder wilfully to attempt, by word or action, to distract, deceive or obstruct either batsman after striker's received the ball. If umpires deem an attempt to deceive has taken place, they inform captains & award 5 penalty runs to batting side pic.twitter.com/9ajhMso93n

– Saj Sadiq (@Saj_PakPassion) April 4, 2021
From Phehlukwayo shouting at Faheem "Man this isn't Karachi" to Quinton De Kock "Fake fielding gesture" to fakhar zaman…

"Cricket is no more a gentleman game"#PAKvSA #SEVPAK #fakharzaman pic.twitter.com/AnFlvcdZt4

– Crico (@Khadija_hon) April 4, 2021
No Quinton de Kock, you cannot be proud of that. Not at all.

– (@MudabirHassan) April 4, 2021
Quinton de Kock ne aaj sari respect tabah kardi. This was so not needed!

– Virk Shahzaib (@ VirkSh786) April 4, 2021
The smile deceivers have on their faces is so evil. Karma will take good care of Quinton de Kock. The #FakharZaman's batting today would be written in golden words in history! pic.twitter.com/NWDSC5wiLA

– Wajahat Kazmi (@KazmiWajahat) April 4, 2021
Quinton de Kock was cheeky with that Fakhar Zaman run out. But it is interesting that the umps didn't see it as a fake fielding. It will be an interesting debate.

— Mazher Arshad (@MazherArshad) April 4, 2021
Was this run out by @ QuinnyDeKock69 against the spirit of the game?
I'd leave it for you guys to decide. #PAKvSA

– Shoaib Akhtar (@ shoaib100mph) April 4, 2021
Cheeky and genius by Quinton de Kock! Well played, sir! #PakvRSA #dekock pic.twitter.com/7xVr8NmEhQ

— Harris (@Harris_Says) April 4, 2021