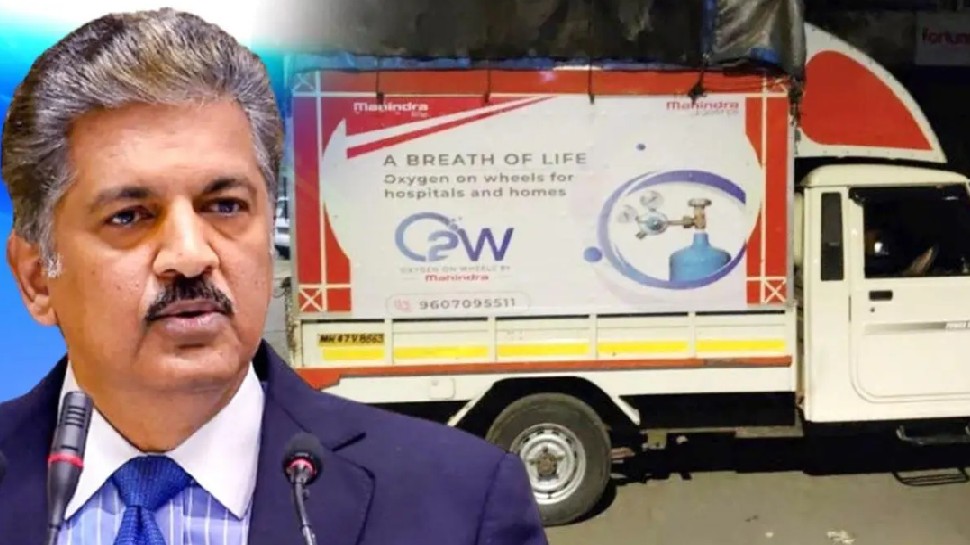 New Delhi: Anand Mahindra: Today the entire country is struggling with the rising infection of the Corona epidemic. Many people are losing their lives every day due to lack of oxygen. In this difficult time, Mahindra Group Chairman Anand Mahindra has taken up the responsibility of supplying oxygen. Anand Mahindra has started 'Oxygen on Wheels'.
Anand Mahindra's 'Oxygen on Wheels' initiative
In this campaign, Mahindra & Mahindra will supply oxygen cylinders across Maharashtra through its Bolero pickup truck. Oxygen will be transported to hospitals and homes of the needy. Anand Mahindra said that, through its 70 Bolero trucks, the company will deliver oxygen cylinders from one place to another. The facility has been launched in Mumbai, Thane, Nashik and Nagpur.
After Maharashtra, we will also go to other states
Anand Mahindra said in one of his tweets that today oxygen is important for reduction in death rate. The problem is not the production of oxygen, but its transport from production plants to hospitals and homes. We are trying to bridge this gap with the project Oxygen on Wheels implemented through Mahindra Logistics. Anand Mahindra told that this initiative has been started in Maharashtra at the moment. But soon it will be taken to other states of the country as well. In this work, we will also take help of our trusted local dealer and will give all possible help to the local administration.
Today, Oxygen is the key to reducing mortality. The problem is not of oxygen production but its transportation from producing plants to hospitals & homes. We're attempting to bridge this gap with "Oxygen on Wheels" a project implemented via Mahindra Logistics (1/5) pic.twitter.com/Cj0CkrfYRo

– anand mahindra May 1, 2021
Maharashtra has the most patients
All states of the country are in bad condition due to corona epidemic. But the worst condition of all of these is from Maharashtra. Where more than 46 lakh corona patients have been confirmed so far. Out of which about 68 thousand people have lost their lives during treatment. In such a situation, Mahindra has started Oxygen on Wheels from Maharashtra.
We have started in Mahrashtra but will expand this through the country relying on the support of our trusted dealership network & the assistance of local administrations to succeed. (5/5) pic.twitter.com/yPHXcPGWXK

– anand mahindra May 1, 2021
Anand Mahindra shared emotional video
In this time of Corona crisis, an advertisement of soft drink company Coca Cola is becoming increasingly viral. Who is trying to create hope inside the people. In this video, the new normal is shown and told how people are helping each other. Anand Mahindra thanked Coca-Cola for conveying optimism. This video was released soon after the epidemic last year, the advertisement is still relevant today as the cases of India COVID-19 are increasing rapidly. This video tells how people came together to help the needy.
Optimism. A universal religion we can all belong to… Thank you Coca Cola pic.twitter.com/IAen8i4tCl

– anand mahindra April 29, 2021
LIVE TV