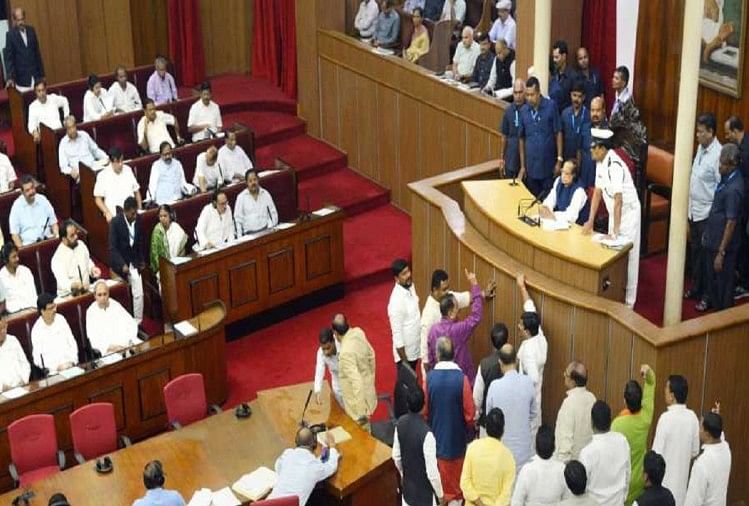 PTI, Bhubaneswar
Published by: Sanjeev Kumar Jha
Updated Mon, 05 Apr 2021 12:34 PM
Odisha Legislative Assembly (File Photo)
– Photo: PTI
Detailed
Without regretting the incident of raising slippers towards the pedestal in the Odisha Legislative Assembly, BJP MLAs on Sunday alleged that Speaker S.K. N. The characters provoked him. Leader of Opposition in the Assembly PK Naik told reporters that the BJP MLA would meet Governor Ganeshi Lal on Monday and would request him not to approve the bill passed from the assembly allegedly without discussion on Saturday.
It is noteworthy that the Speaker has suspended BJP Deputy Leader BC Sethi, Party whip Mohan Majhi and MLA JN Mishra for the entire session. The action was taken after watching a video of Saturday's incident by Patro, Parliamentary Affairs Minister BK Arukha, Chief Whip of the government Pramila Malik, Leader of Opposition PK Naik, Congress Legislature Party leader Narsingh Mishra.
The BJP MLA was confused with the Speaker after declaring the Odisha Lokayukta (Amendment) Bill passed in a few minutes without discussion. Angry BJP MLAs staged a sit-in near the Mahatma Gandhi statue in the Assembly complex overnight but withdrew their protest at the request of Odisha co-in-charge of the party, Vijay Pal Singh Tomar.
JN Mishra, the suspended MLA for the rest of the session, alleged that Speaker Patro was 'inciting' him to stall the House. Mishra said that we are human beings made of bone and meat. How can we keep ourselves restrained when Spekar is encouraging us by quoting certain proverbs? When our leaders stood up to express their opinion, the speaker did not even look at us.
On the question of apologizing to the House, Mishra said that if the people of Odisha believe that this was not the right way, then I have no hesitation in apologizing. He said that there is no question of apologizing to the speaker.

On the question of moving a no confidence motion against the speaker, he said that we do not have the numbers force. Questioning the impartiality of the speaker, BJP whip Mohan Charan Majhi said that the way the speaker prevented the opposition MLAs from joining the discussion while passing the bill, it is clear that they are being instructed from the ruling party. He demanded an apology from the speaker for not being impartial.