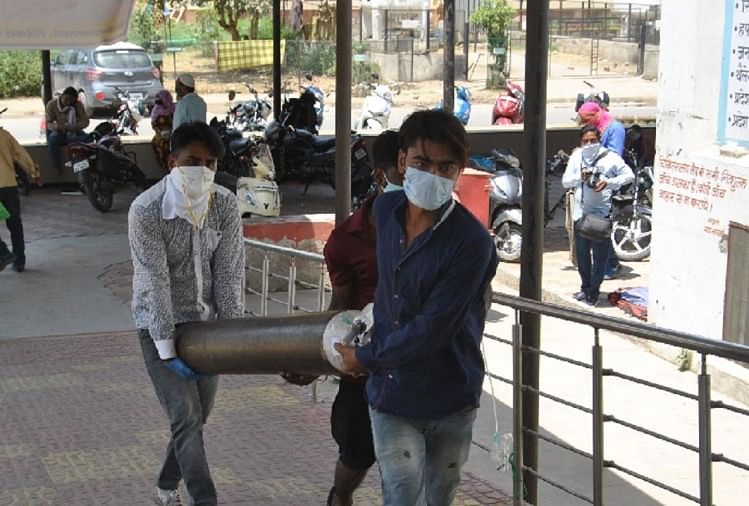 News Desk, Amar Ujala, New Delhi
Published by: Jeet kumar
Updated Wed, 05 May 2021 12:50 AM IST
Lack of oxygen in hospitals.
– Photo: amar ujala
Detailed
Today, most of the deaths in this wave of corona in the country are due to lack of oxygen. At the same time, according to a report, the lack of oxygen continues not only in the big cities of the country but also in the hospitals in cities, towns and even districts.
If estimated on the basis of the Centre's plan, around 6.9 lakh patients may need oxygen throughout the country, while more than one lakh oxygen beds and ICUs may be required. However, not all of them will need oxygen beds at the same time.
According to the center, to assess the supply of essential oxygen, patients are classified into three categories, first, 80 per cent of cases which are mild and do not require oxygen. Secondly, 17 per cent of the cases which are moderate and which can be managed on non-ICU beds and third, 3 per cent of the cases which are serious ICU cases.
On the other hand, the oxygen required for some may be less than 10 liters per minute (LPM), while for others it can go up to 20 LPM or more, but oxygen will be required in all 20% of active cases. .
The actual number of patients needing oxygen may be slightly lower or more, because today the situation is at peak, more is needed, while many cities lack healthcare and infrastructure. Therefore, the situation is worsening in most serious cases. There may be other factors as well.

Talking about the capital Delhi, the demand for oxygen was 976 metric tons here on Monday, but it got only 433 metric tons of oxygen from the central government. This was less than half of the demand, ie only 44 per cent. This supply of oxygen is less than the amount of 490 metric tons that the Center itself has set for Delhi.
In the last one week, Delhi has got only 40 per cent oxygen on an average against the total demand. There is still a 56 percent difference in demand and supply. If this is the situation of supply of oxygen, then how can the lives of the patients here be saved? The same question was also asked by the High Court. The court termed it as gross negligence.