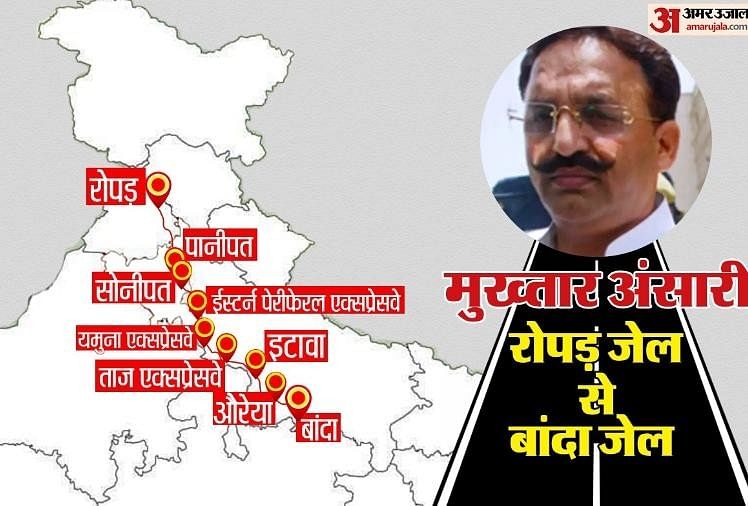 02:59 PM, 06-Apr-2021
UP police has returned for nine times
Medical Board of Ropar Jail Administration had told Mukhtar Ansari many serious diseases including sugar, depression (depression), slip disc, heart disease. By citing this, the Punjab government has been returned to the UP police nine times so far.
02:37 PM, 06-Apr-2021
Via Banud convoy
According to the police, Mukhtar Ansari is being taken to Via Banud UP.

02:08 PM, 06-Apr-2021
Ansari handed over to UP Police
Mukhtar Ansari is placed in an ambulance. Gate changed at the last moment, taken out of number 2. After this, Ansari's Banda Yatra started.
02:07 PM, 06-Apr-2021
Last-minute replacement
At the last moment, the location of Mukhtar was taken out.
02:06 PM, 06-Apr-2021
Punjab Police taking photo of UP Police vehicles
The paperwork is in the final stages. Punjab Police personnel are taking pictures of vehicles of UP Police.
02:03 PM, 06-Apr-2021
Paperwork time
The UP police has been inside the jail premises for over two hours. Ansari's shifting is taking time due to the time taken in paperwork. According to sources, now the paperwork is in the final stages.
01:46 PM, 06-Apr-2021
Alert from Ropar to Banda
Punjab Police officials said that under Mukhtar Ansari's return to UP, all the districts en route from Ropar to Banda have been alerted.
01:42 PM, 06-Apr-2021
Punjab police will be with only Punjab border
At the same time, the UP Police team will take Mukhtar Ansari to UP. No Punjab Police personnel will go to UP together. Punjab Police personnel will remain under Mukhtar's protection only within the border of Punjab.
01:31 PM, 06-Apr-2021
PAC's platoon also included in the convoy
The team arriving from Banda in UP includes a DSP, two inspectors, six ASIs, 20 head constables, 30 constables, a PAC platoon, GPS-equipped Vajra vehicles, 10 police vehicles, doctors and ambulances.
01:23 PM, 06-Apr-2021
All UP Police personnel are equipped with modern weapons.
A team of about 100 policemen from UP has come to Punjab to take Ansari from Ropar to Banda Jail. All jawans are equipped with modern weapons and bulletproof jackets.
01:16 PM, 06-Apr-2021
SSP reached Ropar jail
SSP Ropar Akhil Chaudhary has reached Ropar Jail. They are taking stock of security before Ansari's shifting. After talking to the police personnel, he left from the spot.
01:09 PM, 06-Apr-2021
Mukhtar's henchmen have come in 12 vehicles
According to information received from the CIA, his henchmen have already left Ropar before Mukhtar's departure. According to sources, in addition to the police vehicles, 12 vehicles of Ansari's henchmen also came to Ropar.
01:03 PM, 06-Apr-2021
Police deployed at both gates of Ropar jail
Police has been deployed at both the gates of Ropar Jail. UP police vehicles entered the jail premises an hour ago. Paperwork may take longer.
12:52 PM, 06-Apr-2021
All the items needed are being kept in an ambulance
All the items needed along the way are being kept in the ambulance carrying Ansari. Mukhtar had expressed some desire to the police. It also includes sugar free juice.
12:45 PM, 06-Apr-2021
The convoy will leave from NH 44
The route that took Mukhtar Ansari to Banda Jail included National Highway 44. There are more than nine highways on this route.