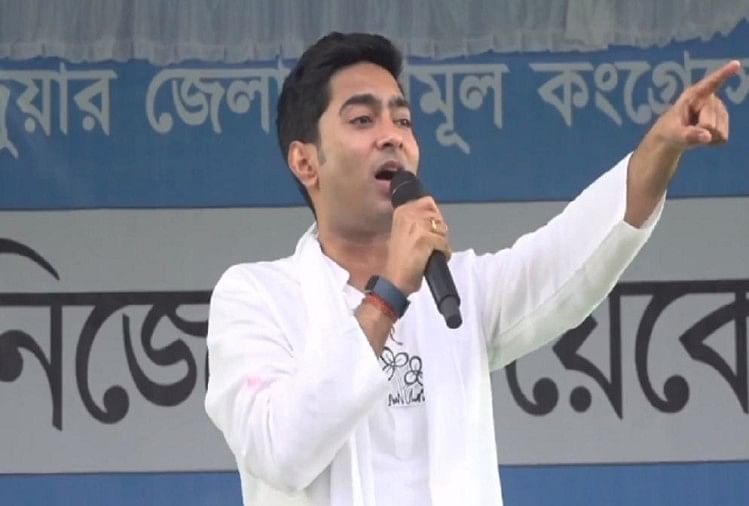 TMC MP Abhishek Banerjee
– Photo: ANI
Detailed
In view of the assembly elections in West Bengal, political bets are constantly going on. In this episode, TMC MP Abhishek Banerjee made a bet like Delhi Chief Minister Arvind Kejriwal. On Thursday (8 April), he accused the BJP of buying voters by giving them money. Also, asked the people to take the BJP money, but vote for TMC.
Bargain advice given to people
Trinamool Congress MP Abhishek Banerjee alleged that BJP was distributing money to buy people's votes. He asked the people to vote in favor of the Trinamool after taking the money given by the BJP. Abhishek Banerjee, while addressing a public meeting at Kumaragram in Alipurduar district, said that people should bargain and on offering Rs 500, voters should ask for Rs 5000.
Appeal to the public to vote
The TMC MP said to take the money from Kamal (BJP's election symbol) and vote for two flowers (Trinamool's election symbol). If they can cheat you why won't you do it? Addressing another rally at Stormonganj in Cooch Behar, he said, 'People have to decide whether they want outside leaders or their daughter Mamta Banerjee.
Shuffle on 'Achhe Din'
Targeting the BJP's promise of a 'good day', the TMC MP said that the BJP has failed to meet the expectations of the people. Under the BJP rule at the Center, prices of essential commodities such as petrol and cooking gas are skyrocketing, which has upset people.
Government's criticism on Corona virus too
He criticized the central government for dealing with the situation of Kovid-19, saying that the Mamata Banerjee government did not get any special help from the Center. The state government had to make large-scale arrangements to get people back from other states and help them.