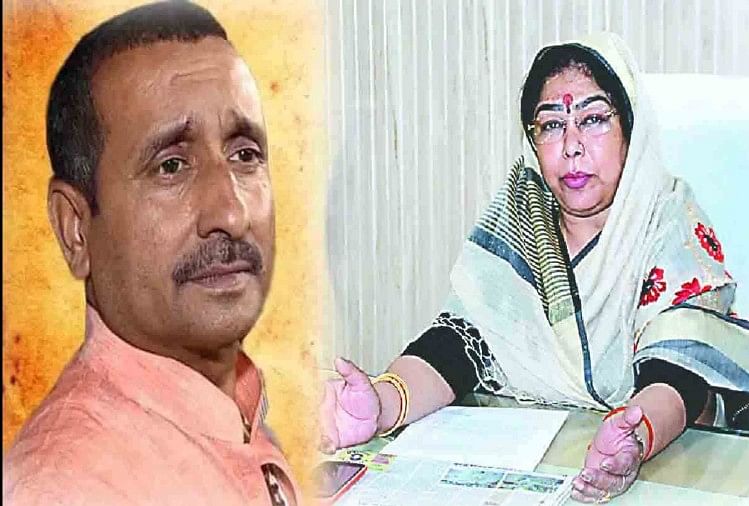 Kuldeep Sengar, wife Sangeeta Sengar
– Photo: amar ujala
Detailed
In Unnao, Uttar Pradesh, BJP has released the list of names of the Zilla Panchayat member candidates. Sangeeta Sengar, wife of convicted former BJP MLA Kuldeep Sengar, has been given the ticket of Zilla Panchayat in the list. In this, the district vice-president has also been nominated from Sikanderpur Sarsi III. The name of the outgoing district panchayat president and former district presidents is also included in the list of supported candidates.
On Thursday evening, BJP state president Swatantradev Singh announced the names of the candidates of the district panchayat wards. In this, Soni Ashok Shukla, District Vice-President has been nominated from Sikanderpur Sarsi III.
The outgoing district panchayat president Sangeeta Sengar Fatehpur Chaurasi III, former district president Avinash Chandra alias Anand Awasthi will field the election with BJP support from Sikanderpur Sarosi I and outgoing block chief Arun Singh Auras II of Nawabganj. District President Rajkishore Rawat said that all these parties are authorized candidates. Will be able to put a party banner.
Every party worker will contest them. District vice-president Soni Ashok Shukla has also been fielded. It is currently the district vice president. He will resign from the post of vice-president. Other officials will also have to resign.
Support these candidates

Nawabganj

First – Amarendra Shekhar, Second – Suman Devi, Third – Sunit Kumar, Fourth – Shivdevi
Hasanganj

First – Vijay Kumar Sharma, Second – Renu Singh, Third – Parameswara Deen Verma
Miyaganj

First-Shakuntala Sharma, Second-Ratnesh Singh Chandel, Third-Phool Chandra Rawat
Auras
First-Arif Ali, Second-Arun Singh, Third-Rana Sangram Singh
Ganjmuradabad
First-Vimal Chandra Shukla, Second-Saroj Katiyar, Third-Gita Vishwakarma
Bangarmau
First – Kailash Nath Nishad, Second – Mukesh Pal, Third – Yogendra Pratap Singh
Fatehpur Chaurasi
First-Ashish Kumar Kuril, Second-Mahesh Chandra Dixit Munna, Third-Sangeeta Sengar
Safipur
First – Jayadevi Kuril, Second – Kamala Gautam, Third – Dilip Kumar alias Guddu Mishra
Sikanderpur Sarsi
First-Avinash Chandra alias Anand Awasthi, Second-Sarita Rajput, Third-Soni Ashok Shukla, Fourth-Shivanandani Lodhi
Sikanderpur Karna
First – Pramod Kumar Rawat, second – Chandrabhushan Rawat, third – Suresha Devi Gautam.
Bighapur
First-Banshilal Lodhi, Second-Sushma Kanaujia, Third-Phoolmati Yadav
Sumerpur
First – Jaya Tiwari, Second – Sunita Devi Sharma, Third – Aarti Devi Lodhi
Hillouli
First – Shashank Pratap Singh, Second – Krishna Narayan Pathak, Third – Ramprakash Lodhi, Fourth – Soni Pal.
Asoha
First – Ravindra Yadav, Second – Ketaki Rawat, Third – Jyoti Rawat
Hamlet
First-Satyam Chaudhary, Second-Sajjan Lal Lodhi
toe ring
First – Ashish Kumar Rawat, second – Pravesh Singh alias Syndicate, third – Anita Devi and fourth Krishna Kumar Verma.