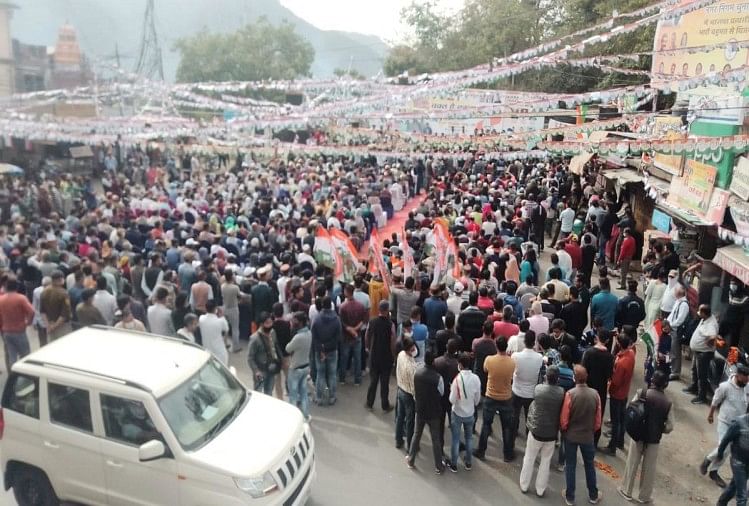 News Desk, Amar Ujala, New Delhi
Published by: Deepti Mishra
Updated Thu, 08 Apr 2021 11:43 AM IST
In view of the increasing cases of Corona in the country, the Delhi High Court has sent a notice to the Election Commission and the Center, hearing a petition requesting to ensure wearing of masks during the election campaign.
A petition was filed in the Delhi High Court requesting the mandatory use of masks for every person involved in campaigning during the ongoing elections in various states, on which the High Court on Thursday responded to the Center and the Election Commission Has summoned.
Delhi HC issues notice to Cente & Election Commission, on a plea seeking direction to EC to publish prominently on its website, mobile apps, election material & other platforms, "EC guidelines for conduct of general elections/bye-elections during COVID19" published in Aug 2020 pic.twitter.com/OiafsKD4r5
– ANI (@ANI) April 8, 2021
A bench of Chief Justice DN Patel and Justice Jasmeet Singh issued notice to the Center and Election Commission on the petition of Vikram Singh, former Uttar Pradesh DGP and head of the think tank 'Center for Accountability and Systemic Change' (CASC), seeking his reply. .

The court has fixed the next hearing in the case on April 30, when it will also hear Singh's main petition. In the main petition, Singh has requested to stop campaigners and candidates from campaigning in the assembly elections who are repeatedly violating the necessary guidelines issued by the Election Commission in the wake of the Kovid-19 global epidemic.
Advocate Virag Gupta, appearing for Singh, told the bench that the Election Commission should create awareness through digital, print and electronic media for physical distance and compulsory wearing of masks during the assembly elections.
Gupta argued that while all officials are unanimous on the use of masks, it is beyond logic why this rule should not be applied during election campaigning. On behalf of the Center, the government's permanent advocate Anurag Ahluwalia accepted the notice.