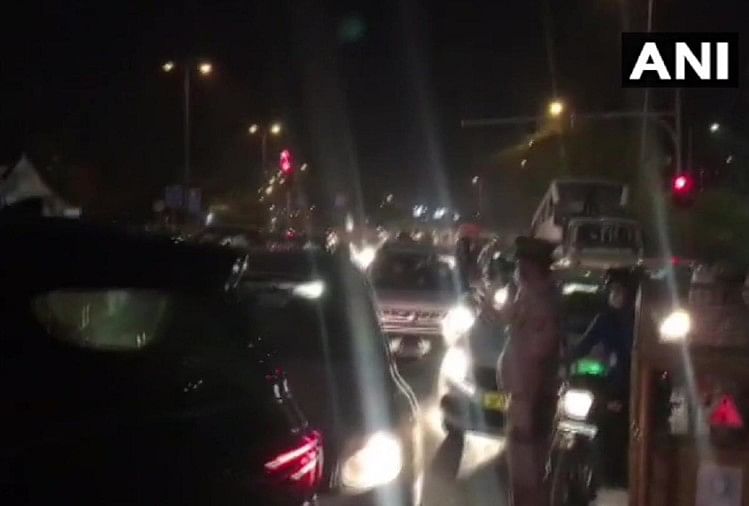 News Desk, Amar Ujala, New Delhi
Published by: Dushyant Sharma
Updated Fri, 09 Apr 2021 12:36 PM
The process of investigation intensified on the shout border …
– Photo: ani
In the midst of the applicable night curfew in Delhi, the Delhi government has excluded print and electronic mediapersons from the e-pass imperative. They only have to show their I-card. Based on this, there will be uninterrupted movement of people associated with the media at night.
Meanwhile, the night curfew has been implemented in Noida and Ghaziabad from today. Due to this, those who are moving between Delhi-Noida and Delhi Ghaziabad are being investigated at night. Since the night curfew has been implemented in Noida and Ghaziabad from today, there has been a spurt in nightly investigations on octroi and the boundaries of the state and districts.
As far as movement is concerned, an order issued by the Delhi government earlier on Tuesday said that people of print and electronic media will also have to take e-passes to get out on the streets after 10 pm. Due to this, those working in night shift were having a lot of trouble.
On leaving the road late at night, every intersection had to pass through long interrogations of the police. The biggest problem was those whose movement is between Noida and Delhi. This decision of the Delhi Government will provide relief to the media persons who move at night.
In view of this, on Thursday, the Delhi government has amended the order. Media personnel will be able to travel by showing the ICard of their institute. On the other hand, in the last two days, the Delhi government has received about 1.19 lakh applications of e-pass. Of these, around 87,000 have been rejected for different reasons.
Officials say that most of these applications either did not come under the purview or they had made a mistake in filling the form. While 12,068 e-passes have been issued, if found correct.