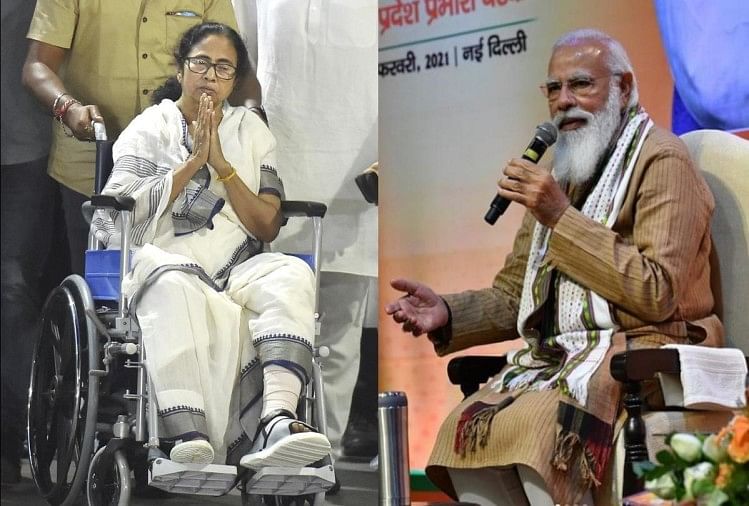 News Desk, Amar Ujala, New Delhi
Published by: Prashant Kumar
Updated Thu, 08 Apr 2021 10:57 AM IST
abstract
Chief Ministers of states will be included in the meeting
Mamta Banerjee will be replaced by Secretary
Mamta Banerjee absent from being busy in campaigning
Mamta Banerjee and Narendra Modi
– Photo: PTI
Detailed
Today Prime Minister Narendra Modi is going to have a meeting with the Chief Ministers of all the states regarding the worsening situation of Corona. The Chief Minister of the states will attend the meeting. However, West Bengal Chief Minister Mamata Banerjee will not attend this meeting. It is being told that she will miss the meeting due to being busy in campaigning. He will be replaced by the Chief Secretary of the state.
West Bengal CM Mamata Banerjee unlikely to attend today's meeting called by PM Narendra Modi over Covid situation. Chief Secretary Alapan Bandyopadhyay to attend the meeting with PM Modi: Sources

– ANI (@ANI) April 8, 2021
Second wave of corona uncontrollable

The cases of corona infection in the country are increasing rapidly. The second wave of Corona is becoming uncontrollable in many states. On Wednesday, 1 lakh 26 thousand new cases of corona have been reported. Which is the highest in the figures till date. In view of the epidemic getting out of control, many cities have been completely imprisoned, while night curfew and other restrictions have been imposed in many cities. In view of the strong wave of Corona, PM Modi has called a meeting to know the condition of the states.
Mamta on Modi's target in Bengal elections

Actually, assembly elections are going on in West Bengal. Prime Minister Narendra Modi himself is leading on behalf of the BJP. He is blaming Mamata Banerjee for not developing in Bengal. PM Modi alleges that Didi has retained Bengal as Jungle Raj. But now the people of this place are going to get freedom from the Mamta government. Let us know that Prime Minister Narendra Modi will hold a meeting with the Chief Ministers regarding Corona. In this, the situation of Corona in the states will be discussed. Also, a strategy to stop Corona will also be discussed.