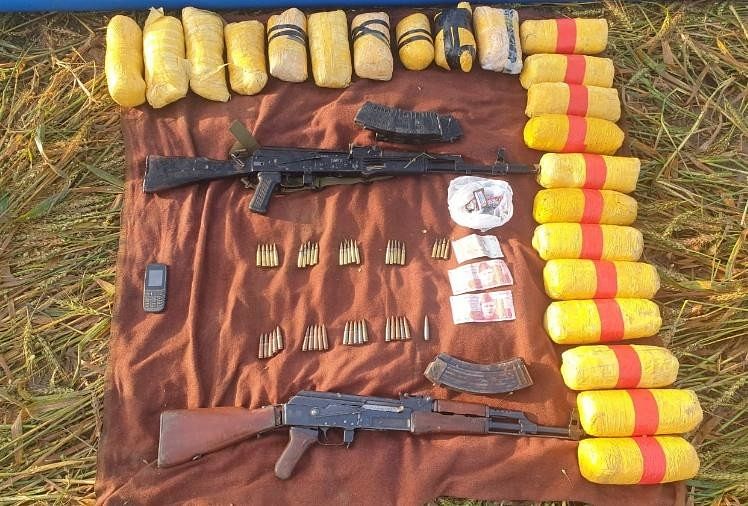 Samvad News Agency, Amritsar (Punjab)
Published by: Shahrukh Khan
Updated Wed, 07 Apr 2021 08:56 AM IST
Goods recovered from a Pakistani intruder killed in Amritsar.
– Photo: Dialog News Agency
Detailed
The Border Security Force (BSF) and police in a joint operation killed two Pakistani intruders in Kakkar village of Lopoke, a border area in Amritsar, Punjab, on Wednesday morning. During the search, two AK-47s, 45 cartridges and 22 kg of heroin have been recovered from both. Police of Lopoke police station in Amritsar have started an investigation by capturing the dead bodies.
According to the information, the police had received information that some Pakistani smugglers were about to enter the BOP Kakkar village of Lopoke in Indian territory on Wednesday morning with a consignment of weapons and heroin. After which the police officers shared this information with the BSF and took the front in Wednesday's Alsubah joint operation.
As soon as the Pakistani smugglers entered the Indian border, the BSF opened fire and killed them both. During the search, a large bag was found near the bodies from which 22 kg of heroin, two AK-47s and 45 cartridges have been recovered. No identification cards have been received from both the smugglers. It is currently being investigated.
Seven kilos of heroin found in the farm at the trafficker's spot in Ferozepur

On the other hand, Narcotics Cell in Ferozepur has recovered seven kilograms of heroin from the Fencing Cross farm under the traces of Tandi Wala (Hussainiwala Border), a resident of Taskar Raj Singh, arrested from the frontier village Madhera. The accused have deep connections with Pakistani smugglers.
SSP Bhagirath Singh Meena said that Inspector Parminder Singh of Narcotics Cell was patrolling with the police team. Informant informed that Raj Singh alias Raju, a resident of Tandi Wala, a frontier village, supplies heroin from Pakistan. At this time, the village is coming from Hussainiwala border towards Madhera.

Police arrested Raju on Tuesday with 110 grams of heroin. Police of Sadar police station was interrogating him by registering a case against him. The accused said that he had procured a consignment of heroin from Pakistani smugglers, who hid in the field near Jalanabad BSF BOP Santok Singh Wala on the outskirts near Fencing Gate No. 228M and Pillar No. 11 on Zero Line Is laid. Police officers contacted the officers of BSF battalion-2 and conducted a search operation in the Fencing crossing field. Seven kg of heroin was recovered from there.