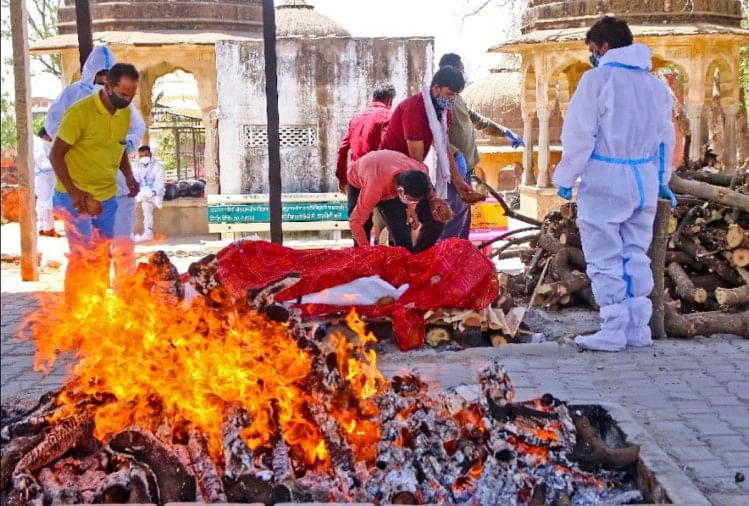 In the midst of the deadly outbreak of the second wave of Kovid-19, there are constant pyre burning in the crematoriums here and their workers are working for about 15 hours a day helping the bereaved families in the cremation of the dead bodies.
Harishankar Kushwaha, the administrator of the city's regional park Muktidham, told the media on Tuesday, "We help people perform the ritual of bone accumulation by starting work every day at six in the morning. The process of burning pyre starts at 9 am and continues till seven in the evening. After this, we spend an hour or two cleaning the cremation grounds.
He said, in view of the prevailing climate of the epidemic, most people want to get out of Muktidham by giving fire to the pyre as soon as possible. In such a situation, we have to take equal care to put the wood in the pyre so that the last rites are done properly.
Kushwaha said that many families of Kovid-19 victims are not able to reach the crematorium for the last rites of their family as they themselves are suffering from the epidemic at home or hospital. In this situation, we have done the last rites of 30-35 dead bodies during the last two months, he said.
He said that in some of these cases bereaved families paid the funeral fee to Muktidham management online, while in some cases the funeral was done without any charges.
According to Kushwaha, 30 to 35 dead bodies are being brought to the regional park Muktidham everyday for cremation. However, these include people died of diseases other than Kovid-19.
Significantly, Indore is the most affected district of Kovid-19 in the state where Janata curfew (partial lockdown) is in place to prevent the second wave of epidemic. During the curfew, people are allowed to move out of the house only when there is urgent work, while the hospitals are full of infected people.
According to government data, a total of 1,18,085 patients of corona virus infection have been found since March 24, 2020 in the district with a population of about 3.5 million. Of these, 1,169 people have died during treatment.