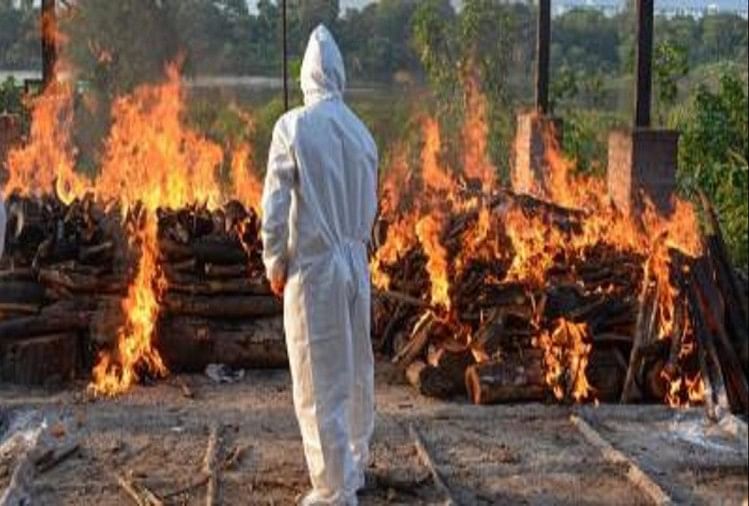 09:34 AM, 04-May-2021
Tamil Nadu also declared journalists as Kovid warriors
Journalists have also been declared frontline Corona Warriors in Tamil Nadu. CM Elect MK Stalin gave this information on Twitter.
09:22 AM, 04-May-2021
89 new cases surfaced in Ladakh, three more people died
After the arrival of 89 new cases of Corona virus infection in Ladakh, the total number of infected people increased to 14,315 and the death toll rose to 148 with three more deaths due to infection.
09:06 AM, 04-May-2021
No tanker left to carry oxygen in Punjab
Punjab Chief Minister Captain Amarinder Singh has appealed to the Central Government to provide more oxygen tankers to the state. He said that Punjab does not have the necessary tankers to carry oxygen to save the lives of Kovid-affected patients.
08:52 AM, 04-May-2021
Accused of black marketing of oxygen mask arrested in Noida
Noida district police arrested a person on charges of black marketing of high pressure double oxygen regulator and oxygen mask and recovered from him six high pressure double gauge oxygen regulators, 20 oxygen masks, used cars in the incident and Rs 7,260 cash.
08:33 AM, 04-May-2021
Decision on complete lockdown in Bihar today
The government can take a decision today on the imposition of a complete lockdown in Bihar. On Monday, the High Court also asked the Bihar government when a complete lockdown would be imposed in the state. Chief Minister Nitish Kumar will hold a meeting of the Disaster Management Group today. In this meeting, the possibility of taking a decision on lockdown is being expressed.
08:22 AM, 04-May-2021
Chhattisgarh: Kovid test report mandatory for air travelers
The government of Chhattisgarh has made it necessary to show RT-PCR report for all the passengers traveling by air in the state. Admission will be given only when the report is negative. The report should not be more than 72 hours old. The state government has directed all the airlines to give boarding pass only after seeing the Kovid test report of passengers coming to Chhattisgarh. If a passenger arrives at Chhattisgarh airport and leaves Corona positive, he will not be allowed to exit the airport.
08:09 AM, 04-May-2021
Tamil Nadu: 450 oxygen cylinders arrived from Britain today
The Indian Air Force aircraft carrying 450 oxygen cylinders from Britain arrived at Chennai Airport in Tamil Nadu this morning.
An Indian Air Force aircraft reached Chennai, Tamil Nadu early morning today with 450 oxygen cylinders each of capacity 46.6 ltr from the United Kingdom pic.twitter.com/VTdPYfi9sl

– ANI (@ANI) May 4, 2021
08:03 AM, 04-May-2021
198 new corona patients found in Mizoram
In the last 24 hours in Mizoram, 198 new cases of corona virus were reported. With this, the total number of positive cases is now 6,556, including 1,427 active cases, 5,112 discharged cases and 17 deaths. The information and public relations department of Mizoram government gave this information.
07:53 AM, 04-May-2021
Country: Slight decline in daily affairs
The country has reported a slight decline in new cases of corona infection several days later. Over 3,57,229 new corona patients have been found in the last 24 hours in the country and 3,449 people have died. With this, the total number of infected people in the country has crossed two crores. There is a slight decline in new corona patients today compared to Monday. Let us know that a day before that i.e. on Monday, more than 3.68 lakh new corona patients were found and 3,417 people died.
07:42 AM, 04-May-2021
Live: Reduction in new cases of corona for the third consecutive day, more than 3.57 lakh new patients found in 24 hours
The second wave of Corona virus has created a furore in the country. Since last week, more than three and a half lakh new patients are getting daily. There is an atmosphere of panic due to the continuous increase in the number of deaths from corona patients and covid. The country's health system collapsed. Beds, ventilators, remodevir and oxygen shortage continue in hospitals across the country. Hundreds of people are dying without treatment. At the cremation ghats, many hours have to wait for the cremation of dead bodies. Vaccination campaigns in many states seem to be eclipsed by the lack of vaccines.