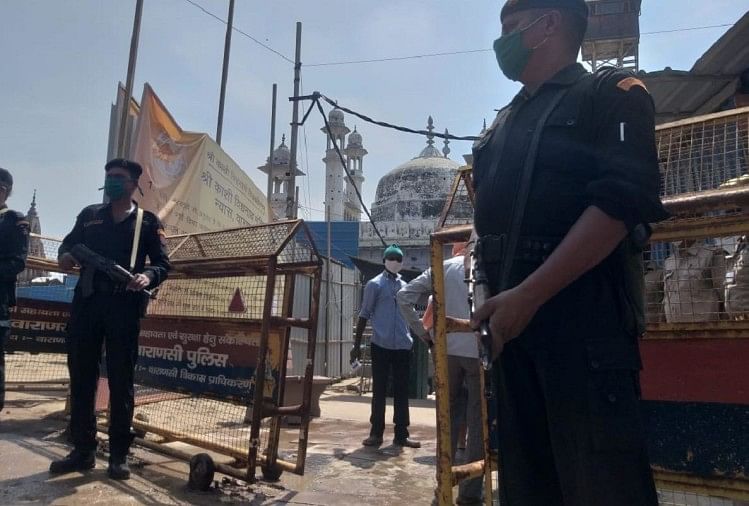 News Desk, Amar Ujala, Varanasi
Published by: Geetarjun Gautam
Updated Thu, 08 Apr 2021 4:03 PM IST
Knowledge Zone.
– Photo: Amar Ujala
Detailed
While giving the verdict in favor of the Kashi Vishwanath temple in Varanasi, the court has given an archaeological survey of the Gyanvapi campus using radar technology. The court of Civil Judge Senior Division Fast Track Court Ashutosh Tiwari on Thursday accepted the application of Vijay Shankar Rastogi, a friend of Lord Vishweshwarnath.
The court had filed an application in this ancient case pending since 1991 on behalf of Vijayashankar Rastogi, a friend of the ancient idol Swayambhu Lord Visvesvarnath. In which it was said that Araji Nos. 9130, 9131, 9132 area of ​​Gyanvapi complex located in Mauja city Khas is an archaeological survey of one big nine biswa land with radar technology to tell whether the land is a remnant of the temple or not. Also, by breaking the floor of the disputed structure, see whether 100 feet high Jyotirlinga Swayambhu Visvesvarnath is present there. Walls are of ancient temple or not.
With radar technology, the survey will be able to know the religious nature of the land. Wad Mitra Rastogi argued that the 14th-century temple has a structure in the first floor and a basement in the ground floor, with a 100-foot-high Shivalinga, which will be evident from the excavation. The temple was built thousands of years ago by King Vikramaditya in 2050 Vikram Samvat. Then in the Satyuga, King Harishchandra and in the year 1780 Ahilyabai Holkar had renovations done. He also said that when Aurangzeb attacked the temple, the temple did not exist for more than 100 years after that, i.e. from the year 1669 to 1780.

Central Sunni Waqf Board advocate Abhay Nath Yadav said that as per the claim, when the temple was demolished, the Jyotirlinga was present at the place where it is today. At the same time, the temple was built by Narayan Bhatt with the help of King Akbar's Finance Minister Todarmal, which is built on the same Jyotirlinga. In such a situation, how can the second Shivalinga come under the disputed structure. Therefore there should not be digging.
Like the Ramjanmabhoomi, when asked for the archaeological report, the conditions were opposite. After the statement of the witnesses there, the court had called for a contradiction, whereas no evidence has been found in the case here so far. In such a case, a court report can be sought if there is a contradiction after the evidence comes. Argued that the report could not be called to collect evidence. It also said that the disputed structure can be dug up causing peace.
It is the duty of the court to maintain peace there. Similarly, similar arguments from the Central Sunni Waqf Board were also presented by the Anjuman Intejamia Committee. Amar Nath Sharma, Sunil Rastogi, Ritesh Rai, Rais Ahmed Khan, Aftab Ahmed and Mumtaz Ahmed from the Anjuman Intezamia Masajid Committee and Taufiq Khan from the Central Sunni Waqf Board were present in the court on behalf of Lord Visvesvarnath.