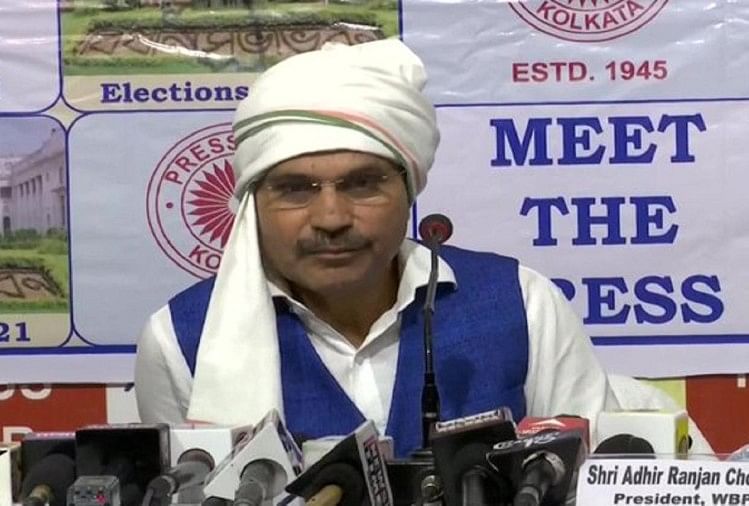 News Desk, Amar Ujala, Kolkata
Published by: Prashant Kumar
Updated Thu, 08 Apr 2021 11:39 AM IST
Congress leader Adhir Ranjan Chaudhary
– Photo: Ani
Detailed
In West Bengal, the Congress is not in the mood to form any alliance with the Trinamool Congress. This is because Adhir Ranjan Chaudhary, State President of Bengal Congress, was asked that when the time comes, you will support Mamata Banerjee. So he said that it would not be appropriate to answer this hypothetical question now. Because our focus is on Nabna (Chief Minister's Office) and we are moving in that direction. Adhir Ranjan Chaudhary said that we do not know where Mamta Banerjee will go if she loses. Because politics is the art of possibilities.
There is no time for hypothetical question as we are marching forward to capture Nabanna. We don't know where will Mamata Banerjee go if she loses. Politics is the art of the possible: WB Congress chief AR Chowdhury on being asked,"if Congress will support TMC if required?" (7/4) pic.twitter.com/G7fB5TdcJo

– ANI (@ANI) April 8, 2021
Fourth phase election on April 10

Let us tell you that there is an election in 8 phases on 294 seats in West Bengal. Three phase elections have been completed in this. On April 10, votes will be cast for the fourth phase. The third phase recorded 84.61 percent polling. In the second and first phase, polling was 84.13 and 86.11 per cent. Five phase elections are yet to be held. The election results will come on 2 May.